Gorilla Trekking in Congo's Virunga National Park National Park
Planning for Gorilla Trekking in Congo can be confusing without knowledge about the country and National Parks Parks. Previously known as The Belgian Congo and more recently Zaire, the Democratic Republic of Congo has experienced a series of wars that have led to civil unrest. However, as the second largest country in Africa with a population of 78.74 million people, the country has vast untapped human and natural resources. Her potential for great wealth in the future is attributed to the large deposits of oil, gold, diamonds and other mineral resources. Moreover, the DR Congo is blessed with great tourism resources ranging from the vast virgin tropical rain forests like the Congo, mountains, bubbling crater lakes, water bodies and rare bird and animal species like the Okapi and pygmy chimpanzee (Bonobos) – many of which have yet to be discovered. Whereas some of her neighbors can brag about having most of the remaining families of mountain gorillas, the Democratic Republic of Congo is the only country in the world where you can spot both lowland and mountain gorillas. They even quietly have the endangered golden monkeys.
The Democratic Republic of Congo is perhaps the last country where you can still experience Africa as it used to be – unspoiled. If peace and good governance structures were established, the Democratic Republic of Congo could easily become the leading tourism destination in Africa.
Gorillas in Virunga National Park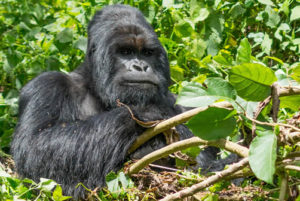 The Democratic Republic of Congo is the only countries were visitors can track both mountain gorillas and their lowland cousins in the wild. It is the best country for seeing wild eastern lowland gorillas. Lowland gorillas can also be seen in zoos around the world while the mountain gorilla can only thrive in the wild. Lowland gorillas in DR Congo can be tracked at the Kahuzi Beiga National Park while the mountain gorillas are found in Virunga National Park. Mountain gorillas are generally larger in size than lowland gorillas with darker and thicker coats that are designed to help them survive in cold high altitudes. Both sub-species feed on leaves, tree shoots and fruits. Both subspecies live in families/groups led by a dominant male silverback that is responsible for the safety of the rest of the group members and keeping unruly individuals in check. Mountain gorilla groups are generally larger with over 30 individuals at times.  The males in both gorilla sub-species stay with the group longer while the females usually leave to join other silverbacks or groups once they reach maturity.
Gorilla Trekking in Virunga National Park
Mountain Gorilla tourism are only possible in three countries – Uganda, Rwanda and DR Congo. Gorilla trekking is the most popular and attractive activity among tourists visiting Uganda, Rwanda and DR Congo at the moment. This is mainly because mountain gorillas are close relatives to humans, are extremely rare and are an endangered species. These reasons collectively make watching a family of mountain gorillas a very special wildlife event.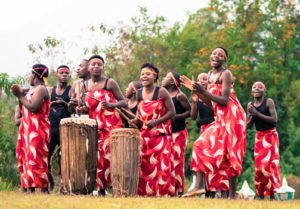 Gorilla trekking in  Virunga National Park starts very early in the morning on the day of the trek. Trekkers need to wake up early, take breakfast and carry all the things they will need while tracking the gorillas. These include long sleeved shirts, a rain jacket, hiking shoes, warm long stockings, hand gloves, cameras, water, passport, VISA and gorilla permits. After all is sorted, visitors head to the park headquarters or briefing by the park rangers and wardens. The briefing covers several topics among which include the history of each gorilla group, gorilla habitats and gorilla trekking rules. Passports will be required for cross-checking. Checking passports helps the rangers allocate gorilla groups according to the language of the trekkers. Other criteria such as fitness level and personal preference are also taken into consideration when assigning visitors Congo gorilla families. As you wait to be allocated a particular gorilla group you may be entertained by traditional local dances. After the briefing and gorilla group allocation is concluded, you will head out tracking in groups of 8 people per gorilla group under the guidance of park guides and armed rangers.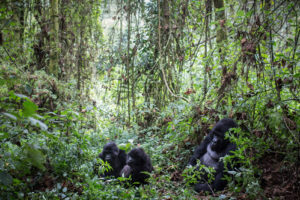 The chances of seeing the gorillas in Congo is high because the Rangers always know their last location. However there are challenges along the way which may prolong the time taken finding the group. These challenges include bad weather, the terrain and the distance from the starting point to the location of the particular gorilla group. Once you locate the gorilla group, expect some scrutiny by the dominant silverback. After thoroughly scanning for any possible threat, the silverback will usually let you be. You will be allowed one hour with the gorilla family. This is the time to watch and take photos of the dominant male silverback, other group members grooming each other, breastfeeding mothers, playing youngsters, stubborn adolescents climbing up and down the short trees and the other male silverbacks if there are any. You might even witness some members making nests for the afternoon nap or in preparation for the night. You will witness amazing things and sights which will remind you of just how we humans behave – take enough photos. You may find our 2 days gorilla tour in Congo package interesting.
Tips for planning gorilla trekking in Congo's Virunga National Park
Gorilla watching in Virunga is a very exciting experience but remember that tracking can really get you worn out, sweaty and hungry. There are some simple tips and things you need to take into consideration in order to enjoy the whole experience right from the time you enter the forest look for the gorilla family. You should:-
Prepare mentally before tracking gorilla and be reasonably fit. When ready physically and mentally, navigating through the difficult terrain can be a walk over. If you are not sure of your general fitness, train yourself before the tour by walking under the sun or walking on foot for long distances.
Keep yourself warm and well covered with gardening gloves, long sleeved shirts and pants. Long and thick synthetic stockings will also help keep you warm in high altitudes.
Gorilla tours are carried out throughout the year but the dry season is the best time for gorilla trekking in Virunga National Park. The heavy rains in the months of October to November and March to April can make the pathways muddy and slippery.
Hire the services of a good and well organized tour operator that will get everything ready with regards to bookings. A good tour company provides you with detailed information about the tour and removes away the burdens of getting everything done by yourself leaving you free with the task of only showing up for the trek.
A well planned gorilla trek is a well equipped one with a high quality camera, enough water, snacks, waterproof backpack and insect repellents.
Hire the services of a porter in case of extra heavy luggage that might make you tired during gorilla tracking.
Gorilla permits should be booked in advance – at least 3 to 6 months before the planned trekking date.
Evidence of yellow fever vaccination is a requirement before entering many African countries. It will be difficult for you to cross to Congo without this vaccination. It is said that there are back door methods for those without the vaccination cards but this is time consuming and generally inconveniencing to all. Though not a requirement, you may carry along medication for Malaria, Meningitis, typhoid, Hepatitis A/B and malaria.
Make sure you applied for the Congo Visa before entering Congo. A Congo Visa costs $100.
Arrange for travel insurance if you can. It is hard to find companies providing services to visitors going for safaris in foreign countries – but there are some offering the service.
Book accommodations near to the starting point of the trek. Accommodations in Goma and Bukima are recommended for Virunga National Park Gorilla trekking.
Getting to Virunga National Park
After booking your gorilla permit, accommodation and Visa, you might wonder how you will get to a large country like the DR Congo or more precisely Virunga National Park. The first step is landing in either Kigali international Airport in Rwanda or Entebbe Airport in Uganda.
Rwanda – Congo route: Flights to Kigali usually arrive in the late afternoon or evening hours implying that you might have to first sleep in a hotel in Kigali before embarking on the trip to the Congo border because the border offices don't open 24/7. You should start the journey to the border early morning the next day. The journey from Kigali to Gisenyi takes about 4 hours by road. A hired private car will cost you $100 while public transportation costs way less. From Gisenyi you can take a local taxi for less than a dollar to the Congo Rwanda Border. If you are using the services of a tour company like Mission Africa Safaris, then all you need to do is show up at the airport and you will be picked by a guide who will drive you to your hotel and then to the border and park the next day.
You will need a yellow fever vaccination certificate, Passport and a Congo Visa to cross the border to Congo. Border officials from the Rwanda side will stamp your passport and then you will cross for another stamp at the Congo side office. Once that is done successfully, then you are free to head to Goma town in Congo and then the Virunga National Park.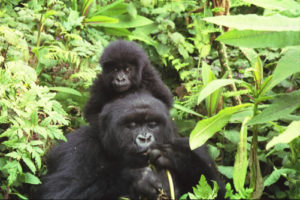 Uganda – Congo route: On landing at Entebbe Airport, it takes less than an hour to drive to Kampala using the new express highway. The journey from Kampala to Kisoro the nearest town to the Congo border takes about 8 hours. This long journey to the Bunagana border is tiring to take by public means. If you decide to use public transport anyway, prepare to pay between $15 and $20 depending on the season – public vehicles hike their fares during festive seasons like Easter and Christmas. There are a number of bus operators plying the Kampala – Kisoro route like Bismarkan, Post Bus, Jaguar and Horizon. Post Bus coaches are considered more comfortable by travelers. The most recommended method to travel to Kisoro is to hire a private vehicle or use the services of a tour operator like Mission Africa Safaris. Using a tour company is quicker, safer and more comfortable. Kisoro can also be accessed by air through the Kajjansi airstrip located along the Kampala – Entebbe highway. Once you reach Bunagana, the journey to Virunga National Park takes only 30 minutes driving on the road.
Water transport: For the more adventurous travelers, there is another way of reaching Goma in Congo. You can go for a boat cruise on Lake Kivu all the way to Goma in DR Congo. The boat cruise costs between $300 to $400 and takes about 5 hours. The more expensive speed boats take 3 hours to reach Goma. The speed boats are on high demand and you should book one early enough. Because of the security situation in the area, we recommend that you use public boats instead of private ones.
N.B: Crossing the border to Congo from Rwanda or Uganda normally takes less than 10 minutes if you have all the required documentation. Make sure you have secured your Visa and are in possession of a yellow fever vaccination card before booking your flight.
The cost of gorilla trekking in Congo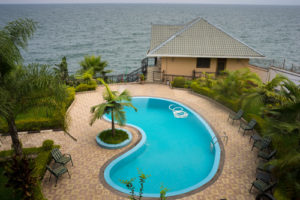 A mountain gorilla permit in Congo costs $400 which is lower than Rwanda ($400) or Uganda ($600). You could even get them on discounts during the low seasons of the year. Gorilla permits   can be booked through your tour operator or directly from the Virunga National Park headquarters. Gorilla permits are just a fraction of the total cost of a gorilla trekking in Congo. One needs to take into consideration the cost of transportation, accommodation and Visas. Gorilla tours with Mission Africa safaris are divided into three different categories – Luxury, Mid-range and Budget.  The final cost will depend on which category you choose. The estimated cost of a 3 days gorilla tour is $1500 for budget and $2000 for Luxury.For those planning on doing a budget Gorilla trekking tour on their own, you don't need to book the more expensive accommodations within Goma. There are cheaper accommodations in the city which still offer good services.
Accommodation during gorilla tours in Virunga National Park
A gorilla safari in Virunga National Park involves choosing one of the various accommodation options depending on your budget and choice. The various accommodations are divided into luxury, mid-range and budget or basic accommodations.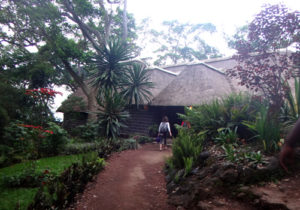 The Budget Accommodation: These are cheap moderate accommodations that offer basic services like modest bedding and restaurants where you can get well prepared meals. However these may lack services like bars, television and warm bath showers. But that was just a generalization. Most of the budget accommodations will surprise quality and personal services that don't look budget at all.
The Mid-Range Accommodations: These are the so called 2 or 3 star facilities that are slightly more expensive going for between $100 and $290 per night. These offer a wider range of services compared to the budget accommodation. They usually have self contained rooms, better bedding, room televisions, dinning services, restaurants and bars.
Luxury Accommodation: These facilities are ranked as 5 star hotels or lodges and most are built in strategic locals that allow visitors to marvel at the great scenery in Virunga National Park. The prices range from between $250 and $500. These facilities offer high quality services with great rooms, restaurants and bars.
Let's look at some of the more population lodges within the Virunga National Park
Kibumba Tented Camp and Lodge: Kibumba lodge is one of the newly opened lodges within the Virunga National Park. Sitting at the foot of Mount Nyiragongo along a bumpy road to the park, Kibumba lodge offers both tented camps and decorated permanent rooms for budget, mid-range and luxury traveler. The budget rooms cost $200 per night. Expect to find self-contained bathrooms, 24 hour Hot water shower, Linen bedding, dinning and lounge services.
Mikeno Lodge: This luxurious lodge is built near Goma town and comprises twelve thatched luxurious rooms built with mahogany and decorated with lava stones. The strategic location of Mikeno Lodge near the Virunga National park allow visitors to have great wildlife experiences like watching chimpanzee, Colobus Monkeys, blue Monkeys and several bird species from near their rooms. The lodge offers spacious en-suit bathrooms of stone showers and curved baths. Moreover there is a dining hall, bar and a lounging area with a fireplace.
Lac Kivu Lodge: Is located within Goma and sits on the banks of one of the most beautiful lakes in Africa – Lake Kivu. With African style decorations, the hotel has 20 rooms overlooking a beautifully manicured garden to one side and Lake Kivu on the other side. Besides the beautiful scenery, they offer en-suit bathrooms that have Nespresso coffee machines and Italian showers. There is a large swimming pool, conference rooms, WiFi, a fitness/beauty center and constant power.