Lake Nakuru National Park
Located in the Great Rift Valley, Lake Nakuru sits at an elevation of 1,745 m, and it is famous for the vast numbers of flamingos that feed off its algae. Lake Nakuru varies in size according to rainfall, and its surface area varies between 5-45 km².
The park lies south of Nakuru, the fourth-largest settlement in Kenya. Feeding pressures and pollution have reduced the flamingo population in recent years, but there are now signs of recovery.
Lake Nakuru National Park is also home to a large rhino population. These beasts can often be spotted lazing under the shade of the luscious acacia trees that surround the lake.
Surrounded by waterfalls, cliffs, and forests, the lake is a vital water source for zebra, buffalo, and the endangered Rothschild giraffe.
Where does Lake Nakuru National Park fit into my Kenyan adventure?
Lake Nakuru's flamingos are the park's primary attraction. However, you also have the chance of seeing a broader variety of species, including rhinos, giraffes, and leopards.
Lake Nakuru is a great standalone day trip if you don't have enough time to visit Kenya's more popular national parks like the Maasai Mara or Amboseli. 
Just a 3.5-hour drive from Nairobi along the Nairobi-Nakuru Highway, Lake Nakuru National Park is easily accessible from the capital.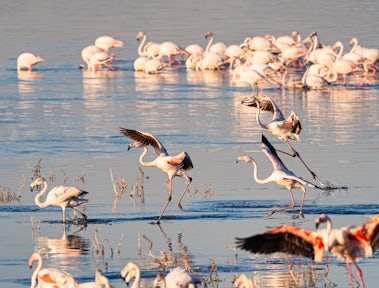 A flock of flamingos on the lake
Wildlife at Lake Nakuru National Park
Lake Nakuru National Park supports a spectacular array of wildlife, including 400 bird species, over 50 mammal species, and over 50 species of flora.
In 1987, the park was declared a rhino sanctuary, and the park's white and black rhinos have thrived in recent years. In 2009, the park was home to over 25 eastern black rhinoceroses and around 70 southern white rhinoceroses.
However, Lake Nakuru is most famous for the flocks of up to 2 million greater and lesser flamingos that nest on its shores.
In 1977, the endangered Rothschild Giraffe was introduced to the park. These giraffes were relocated from western Kenya for their protection, and Lake Nakuru is now home to a healthy population of Rothschild Giraffes.
You can also expect to see waterbuck, Cape buffalo, hyenas, and hippos. Fortunate adventurers may get a glimpse of lions, cheetahs, and leopards. Leopard sightings have increased in recent years.
Large pythons inhabit the park's woodland, and you may see them hanging from trees.