Tourist Attractions and things to do in Uganda.
Uganda is a country blessed with remarkable biodiversity and tourist attractions. From the climate, people, national parks, hot springs, waterfalls, sprawling savannahs, snow-peaked mountains, dense forests, rivers and Lakes, Uganda is the most naturally beautiful countries in Africa. For the reasons already mentioned Winston Churchill described her as the "Pearl of Africa". Apart from the natural beauty, the other thing that makes Ugandan's very special are their friendly nature. A lot of countries have friendly people but often in a selective way. Ugandans are friendly to all kinds and categories of foreigners. It is why she has arguably the best refugee policy in the world.
Most tourists come to Uganda to see the wildlife. Of all the wildlife Uganda has to offer, the Mountain gorilla is the most attractive. The mountain gorillas have allowed thousands of visitors to also discover good things about the country which wouldn't have been the case had it not been for the primates. This is not to say that Uganda's wildlife is not as that attractive. In fact, even without the Mountain gorillas, Uganda would still remain one of the best places to go on a safari in Africa. We have come up with a long list of the top tourist attractions in Uganda. The list is not exhaustive because Uganda has so much to offer.
Things to Do in Uganda – Tourist Attractions in Uganda

Gorilla Trekking: This had to be top on the list because it is the most popular activity in Uganda. Uganda is lucky to have half of the overall population of mountain gorillas and in two national parks – Bwindi and Mgahinga. Mountain gorillas are endangered but their numbers have grown to slightly above 1000 in the last
decade. Bwindi has 17 habituated gorilla groups which are open to tourism while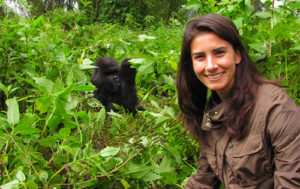 Mgahinga has one large
one.Gorilla trekking in Bwindi National Park. is special because it is the only park where one can also choose to for the gorilla habituation experience. The Gorilla habituation experience is different from gorilla trekking in that it involves more time with the primates. The gorilla habituation experience is also more expensive but participants get to move with researchers and learn more about the primates. To reach Bwindi, one needs to endure a journey of 8 hours by road (450km from Kampala). For nature lovers, the journey can be very rewarding because the scenery is simply amazing. The landscape, forests, water bodies, mountains and valleys seen along the way is why the area is referred to as "the Switzerland of Africa". If you are not convinced, you can hire a chartered flight from Entebbe or Kajjansi for your gorilla safari to Bwindi.
Eat some of the local food: Whenever one visits a new place or country, the first thing that should come to mind is the local food. Uganda has a variety of tasty local dishes. Almost all the 64 tribes in Uganda have a traditional dish. Fish is always on the menu in every country and Uganda is no exception. A favorite cuisine is smoked fish mixed with peanut/groundnut sauce and taken with millet bread. The Baganda love matoke (bananas) and peanut sauce. This dish is very popular among tourists. Other local dishes include yams, pork, chicken, potatoes, vegetable and sorghum. The hotels also include most of the known international cuisines for visitors who are less experimental. I almost forgot to mention the very popular rolex or chapatti (in the picture).
Lion Tracking and Spotting Tree Climbing Lions in Ishasha: Uganda is the best place to see tree Climbing Lions on earth. These rare cats are found in the Ishasha sector of Queen Elizabeth National Park. A few tee climbing lions are also found in Lake Manyara in Kenya and in South Africa.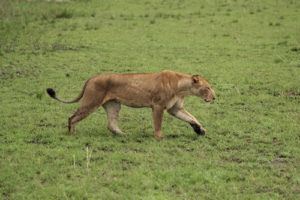 The  tree climbing lions of Ishasha in Queen Elizabeth National Park are many and the chances of seeing them higher than anywhere else. Queen Elizabeth also offers another exciting opportunity – The chance to track lions in the Kasenyi sector with experienced Researchers. Lion tracking in Queen Elizabeth National Park .involves the use of GPS. A sensor is inserted into a collar which is then put around the lioness (after using a tranquilizer). The lion tracking experience is very different from that offered during game drives. During game drives, vehicles are not allowed to drive away from the main park roads. Tourists are also not allowed to get too close to the lions. With lion tracking, participants can be driven deeper into the park and away from the park roads as they follow the lions. Participants in the lion tracking experience may be requested to help in collecting samples from the lions after using a tranquilizer.
Visit the main local Markets: There is no better way to learn about the culture of a new place or people than to visit the busiest local markets. Markets offer a true picture of the kind of life everyday people live and what their values are. You might even get to hear about the latest political or social gossip. Each town in Uganda has a large market where most of the folks got to do home shopping or sell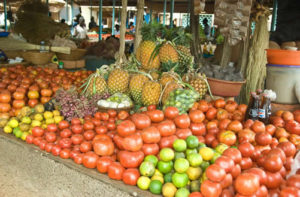 their merchandise. In Kampala, the best three markets are Owino, Nakasero and Nakawa. Owino market is famous for its chaotic stalls but has of recent been renovated with shops in storied buildings. You can find almost anything on sale in Owino market. They have the trendiest second hand (almost new) clothes and shoes. You can find the very best brands. How they reach all the way here is a mystery. Just as you leave the cloth store, you will encounter a shop selling traditional herbs/medicine for all kinds of medical issues. Nakasero is a smaller market specializing in foodstuffs, vegetables, fruits and electronics. It is more organized than Owino Market perhaps because it is located in the city center. As chaotic as it is, Owino market is highly recommended in order to have a taste of Kampala's chaotic life. Make sure you keep your wallet or handbag safe. The market has some of the city's sharpest pickpockets.
Visit the Uganda Martyrs Shrine and Cathedrals: If you are on a, Mission Trip to Uganda you might want to check out Uganda's famous cathedrals. Rubaga Cathedral is Uganda's most important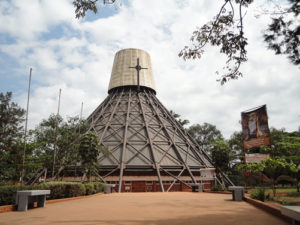 Roman Catholic cathedral. It was built in 1914 on one of Kampala's most prominent hills. This is where the most influential catholic Priests and Bishops sit. A guided tour can be arranged to see the beautiful interior and impressive artifacts. You could also visit the tomb for the first African Catholic Bishop and other clerics at the church cemetery.  For those of the Anglican faith, the Namirembe Cathedral is the place to go. This Cathedral was built in 1919 and is where the top offices of the Anglican Church are located. For the ultimate Mission Trip, you should visit the two Uganda Martyrs Shrines in Namugongo. These shrines mark the spot where over 20 young Christians where executed on the orders of Kabaka (King) Mwanga of Buganda in 1886. The King had asked them to denounce their new Christian faith but they refused and chose to die.
For more information please contact through;
For our ready safaris please check through;
Safari, Uganda Safaris
Discover the rich biodiversity of Uganda in Queen Elizabeth National Game Park. This Safari Guarantees you Lion hunting Experience
Safari, Uganda Safaris
Enjoy a wonderful safari to Uganda's largest game park and see the most powerful fall in the world. The Hub for Wildlife in Africa
Safari, Uganda Safaris
Glimpsing Uganda's famous wildlife can be tricky for time-limited travelers in the capital. Utilize your weekend with this Safaris
Safari, Uganda Safaris
This Wildlife Safari will offer you the best sightings of several mammals like the tree climbing Lions, Gorillas, Chimpanzees & Birds.
Safari, Uganda Safaris
This 9 Days Mountain Rwenzori hiking Trip takes you to Explore Rwenzori Mountain hiking to its Peak packed with cultural Dances.
Safari, Uganda Safaris
This Uganda Primates and Culture Safari is packed with Cultural and wildlife adventures, takes you to Bwindi and as well as Batwa.
Safari, Uganda Safaris
This This 10 Days Uganda Primates-Wildlife Safari takes you for Gorilla & Chimps Tracking in Bwindi Forest and 3 other Africa Big Five wildlife National Parks